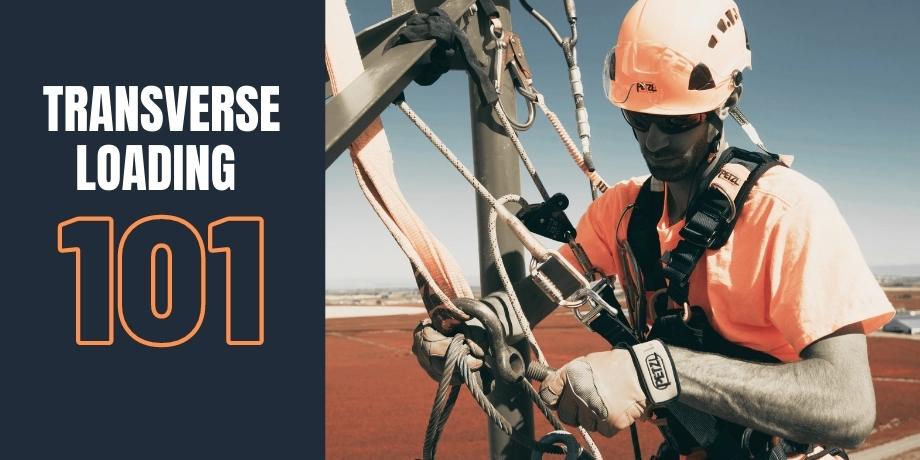 Transverse loading – also known as transverse force or crosswise force – is often overlooked as a source of height safety risk. Which is why we need to start with the basics.
Transverse Loading 101
When working at height, transverse loading refers to the loading of connectors – eg snap hooks, scaffold hooks, carabiners – whilst those connectors are at right angles (or diagonal) to the direction of load.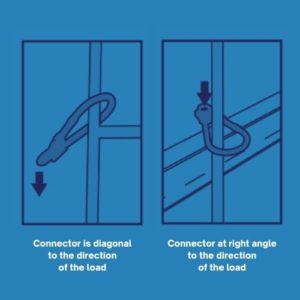 This type of loading is not uncommon if you're a scaffolder, tower worker or climb poles for a living. It may happen, for example, when you clip the scaffold hook on your lanyard to a vertical scaffold tube. Or when you clip onto a vertical leg or diagonal bracing joint of a lattice-framed telco tower or antenna mount.
It all comes down to the direction of your connector vs the direction of the load.
If the direction of your connector and load are aligned, you're fine. Even if both are at a slight angle (eg you're connected to an inset frame but working off the side of a building) – as long as connector and load are in synch, no problem.
However, if your connector is NOT facing in the same direction as the load, then any load applied to it will be transverse in nature.
Why Transverse Loading requires extra safety measures
As you can imagine, putting pressure on connectors that are designed to be aligned to your load (but are instead at odds with it) is not ideal. If those connectors are not rated for transverse loads, they could fail under pressure. And if they fail, your personal fall arrest system is obviously compromised.
Surprisingly, height safety standards have taken a long time to recognise this risk. In fact, Australian Standards still do not mandate the testing and strength-rating of connectors for transverse loads.
Which is why, until recently, our go-to recommendation for angled applications was a lanyard with 3M's Comfort Grip Connector. As discussed in our 2018 blog, this was the only connector on the market at the time that had been designed to somewhat mitigate the pressure of transverse loads.
Fortunately, 2019 updates to the American Standard covering Connecting Components for Personal Fall Arrest Systems — ANSI Z359.12 (2019) — have closed the gap.
As a result, there are now a range of connectors out there that've been tested and rated for transverse loads. Here's how to find yours.
1. Look for lanyards that meet the ANSI Z359.12 (2019) Standard
When it comes to transverse loads, not all lanyards are created equal. To be sure your lanyard's connector can take that sideways strain without snapping, check the fine print.
If your lanyard's connector meets the latest American ANSI Z359.12 (2019) Standard — you're good to go.
This updated Standard compels fall protection manufacturers to meet new requirements for static and dynamic transverse body load testing (illustrated below). All connectors with gate openings larger than one inch must be able to withstand a transverse drop test of 16kN – which is approximately 3,600 pounds or 1,632 kg.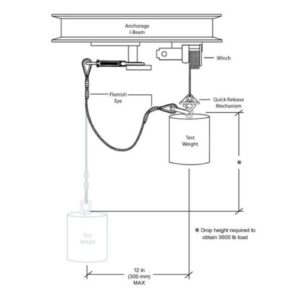 2. Check your connector's Transverse Strength Rating
Every connector that has been manufactured to the ANSI Z359.12 (2019) Standard must have its transverse strength-rating (based on the above tests) etched onto the connector itself.
This compulsory product marking makes it even easier for you to find a connector (or lanyard with a connector) that will suit your transverse load application.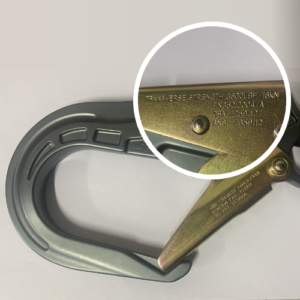 3. Buy your height safety gear from a height safety expert
You don't need to be an expert in transverse load-rated lanyards or know the design specs of every connector. That's what we're here for — so give us a call.
In the meantime, here are a few options to get your started.