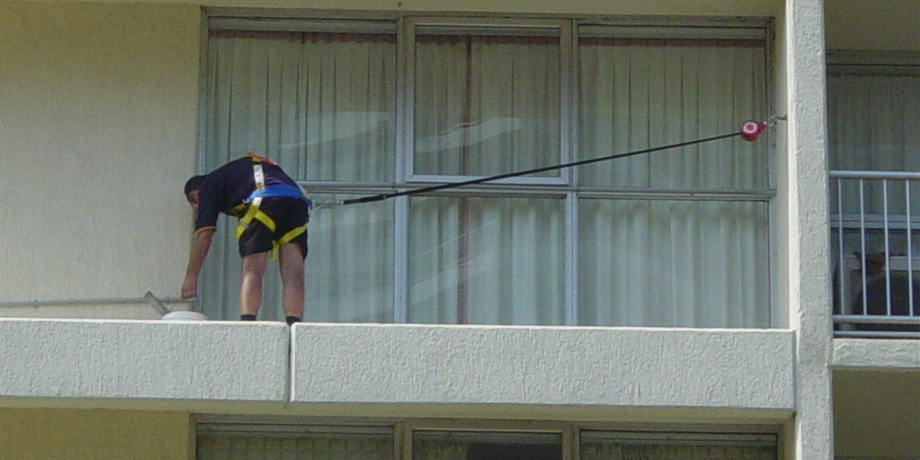 UPDATE – Height Dynamics free online fall clearance calculator lets you work out fall clearance in different situations. It's highly intuitive — just plug in your numbers and go! Makes calculating fall clearance simple.
Fall clearance is the distance needed to safely arrest a fall from height. Fall clearance must be calculated when writing a risk assessment for work that has a potential to expose workers to free fall arrest. Consideration must be made to obstacles or structure that may be struck in the event of a fall.
The position of the anchor, the length and tear out distance of the fall arrest lanyard and the free fall distance are all factors that must be considered.
There are three parts to the equation to work out the fall clearance that is required.
Free fall distance is calculated first.
Free fall (FF) = Lanyard length before tear out (L) – Distance from anchor to work platform edge (S) + Maximum height of lanyard attachment to harness (H).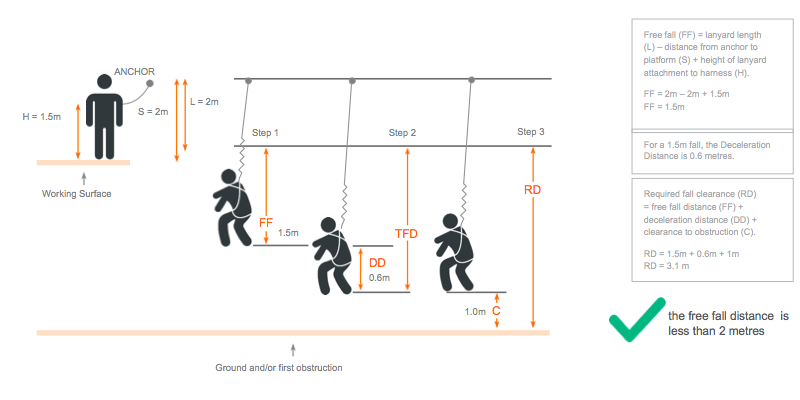 Based on the scenario pictured above,
Free fall (FF) = lanyard length (2m) – distance from anchor to platform (2m) + height of lanyard attachment to harness (1.5m).
This works out to a free fall distance of 1.5 metres.
Part two is working out the deceleration distance. Lanyards that are manufactured to AS1891.1 are made to limit tear out length depending on the distance fallen. This is known as the deceleration distance (DD). In the above case that is 600mm
| | | | | |
| --- | --- | --- | --- | --- |
| Free Fall | 600mm | 1000mm | 1500mm | 2000mm |
| Deceleration Distance | 300mm | 500mm | 600mm | 900mm |
Part three of the calculation adds the clearance to obstruction (C). This is a mandatory safety factor of 1 metre that is specified in the Australian Standard AS/NZS1891.4.
Required fall clearance = Free fall (FF) + Deceleration distance (DD) + Clearance to Obstruction (C)
So, putting it together –
Required fall clearance = FF (1.5m) + DD (0.6m) + C (1m).
This works out to be 3.1m of fall clearance required below the work platform.
When using a standard length lanyard anchored at below the attachment point on your harness it is possible to fall further than the 2 metres allowed in the AS/NZS 1891 and the Codes of Practise. In the case below free fall is greater than two metres and steps must be taken to reduce free fall distance.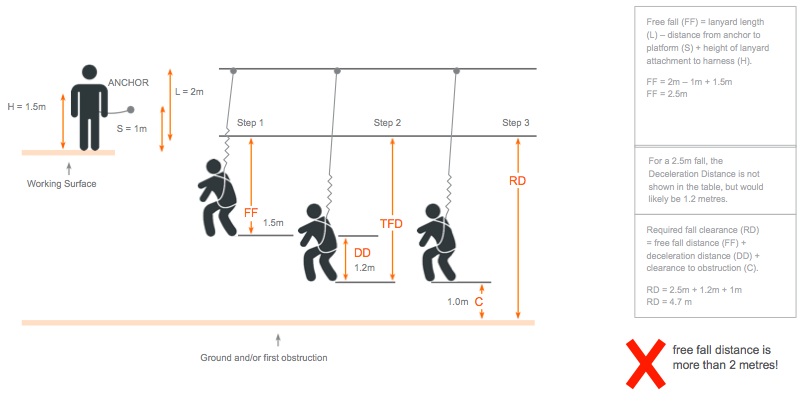 Follow these steps to reduce free fall and your required fall clearance.
Install your anchor as high as possible. An anchor lower than the attachment point on your harness will likely result in a fall greater than 2 metres.
Use an adjustable lanyard to reduce the free fall distance. For example a lanyard adjusted to 1 metre will ensure your free fall is never more than 2 metres.
Use a retractable lanyard or inertia reel. The use of this type of lanyard when anchored overhead will limit free fall to less than 600mm.
Work using the "restraint technique". This method of working will ensure that you can't fall. No free fall means no fall clearance required.
In the hierarchy of control free fall arrest methods should be considered one of the last control measures to safeguard persons working at height.
Height Dynamics experienced team can assist you keeping your team safe when working at heights. Contact us for all your working at heights enquiries.