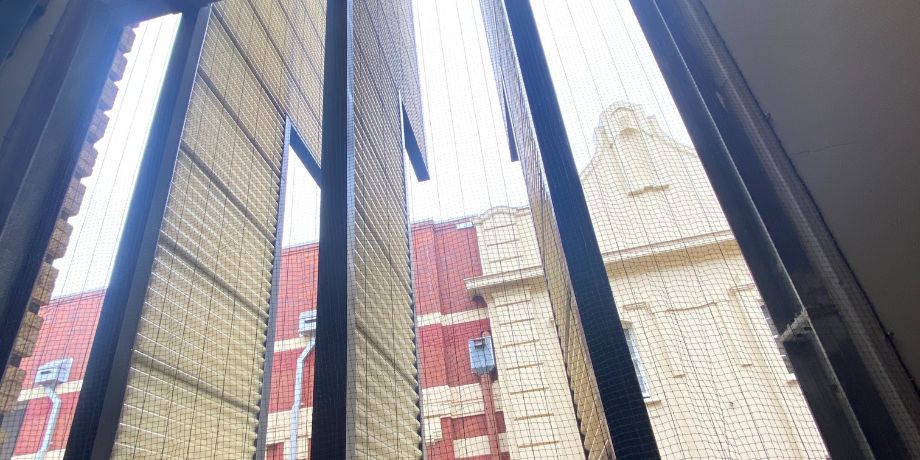 Rope access team called in to help bird-proof a Brisbane building under daily bombardment from local birds flying into the foyer via a four-storey overhead void.
---
A real life battle of the birds
Height Dynamics rope access technicians were called in recently by the owners of a Brisbane apartment complex. Local birds were flying in and out of the building foyer via an overhead void which had been designed to let light in. This daily bird bombardment was distressing for tenants and creating an unhygienic mess for cleaners.
Rope access team to the rescue
The owners wanted our help to install several large mesh panels to fill the four-storey void. These panels would prevent the birds from entering the foyer but still retain as much light as possible.
The fastest way to bird-proof a building
Need work done in high places, difficult-to-reach or confined spaces? The agility and utility of a rope access system is hard to beat.
Our first priority was to inspect the site, mark out the work area, mitigate any trip or fall hazards and identify potential anchorage options.
By utilising existing roof trusses (for anchorage) and combining this with our rope access equipment and PPE, we were able to quickly set up a retrievable rope access system.
Before getting on the ropes, we established a ground-level exclusion zone directly below the work area (using safety barriers and signs). This exclusion zone redirected the public away from danger and prevented entry to the work area. Tenants and visitors were still able to utilise a nearby staircase for their convenience.
Our two-person rope access team then got to work — applying aid climbing techniques to scale the four-storey void, haul and install the bird-proof mesh panels into place.
Once the installation was complete, our team set about dismantling the retrievable rope access system and tidying up any mess that had accumulated in or around the work area.
The proof is in the bird-proofing
The rope access team were able to install the mesh panels and bird-proof the building in record time:
Bird-proof mesh panels safely installed into the foyer void as required
Minimal inconvenience to building owners, tenants and visitors
All who used the foyer were protected from operational risks at all times
The rope access advantage
When operated by experienced technicians, a rope access system is a very effective and efficient solution. In this case, it allowed our building owners to get the job done without resorting to more disruptive, time-consuming and expensive alternatives (eg. scaffolding).
---
What could rope access do for you?
Our rope access teams have the skills, expertise and experience to work in all kinds of commercial, industrial and geotechnical settings – even the most difficult and dangerous ones.
Not sure what kind of rope access suits you best? Give us a call anytime – we're here to help.
For: Facade works, waterproofing, sign installation, painting window replacement, sealing and glazing

See: Commercial Rope Access >
For: Structural repairs, bridge inspections, roof replacement, protective coating, high access rigging

See: Industrial Rope Access >
For: Under-deck repairs for bridges, wharfs and platforms, aircraft light repairs, one-of-a-kind access

See: Difficult Rope Access >
For: Rock scaling, slope stabilisation, vegetation removal

See: Geotechnical Rope Access >