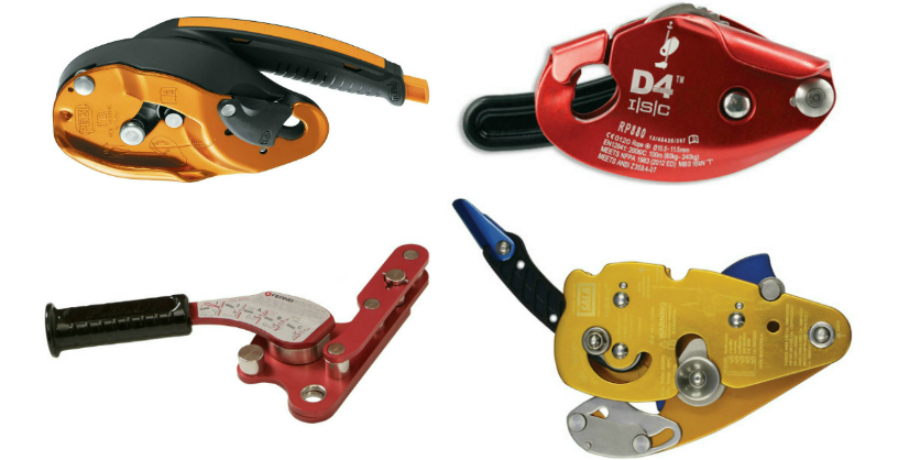 There are a variety of descenders available on the market. Most of these descenders are rated to between 140 to 200 kg. This rating is ideal for single person, but may not be suitable for evacuation of two persons in a rescue scenario. These descenders usually require extra friction (e.g. directing the rope through additional carabiners) to allow them to be used at the higher end of their rated load. In some cases the manufacturer states that "descent control becomes very difficult, and unforgiving of any error or incident during the operation."
There are however a few devices that are rated and designed for two person rescue. However, using these devices with rescue loads does require a high level of skill and understanding the forces that are generated descending at higher loads. It is also recommended that the operator use a glove when operating these devices in a rescue scenario.
The ISC D4 is a relatively new device having been introduced to the market in 2013. Device is rated to 240kg and approved for two-person rescue up to that weight. A simple device to use it has an anti panic feature that stops a descent if the handle is pulled too hard. The user cannot operate that device until it is reset. To reset the device rotate the handle 360 degrees back to the start position. Robust and simple to use this device meets European and American standards.
This device has been available for around 20 years under the SRTE brand. Since Capital Safety acquired STRE about 5 years ago the No-Worries has undergone some design changes. These have improved the performance and increased the ratings and certifications of the device. It is one of a few devices that is certified to USA and European standards and also been certified under the Australian Standard. It is rated for use to 300kgs, is a versatile device that has many uses and is a popular choice of emergency services as a multi function device.
This type of device has been around many years and has been copied by many manufacturers. It is a simple device to use and its inbuilt friction rack provides the friction required to control a heavier load. It is one of the highest rated devices on the market and meets the requirements of AS/NZS 4488.1. Rated to 400kgs
The Petzl ID has been only been included in this list because it is commonly used in rope access and rescue. The devices 150kg rating is stamped on the device and stated in the instructions supplied with the device. There are instructions on the Petzl website that state that expert users can use the ID to control a 2-person descent, up to a maximum load of 200 kg. For improved control however the rope must pass through a braking carabiner. Petzl also states that if an emergency requires you to perform an accompanied descent on your I'D S with a 200 – 250 kg load. Improve braking control by using a second braking carabiner on the side attachment point of your harness.
For loads rated higher than 200kgs Petzl recommends that an alternate method of rescue be considered
Statistics at a glance.


The devices listed above are commonly used for rescue. The list is by no means exhaustive. There are a number of rescue descenders rated for use up to 200kgs that have not been included in this list. For more information do not hesitate to contact Height Dynamics.