We feature two new harness here with the Ferno Advantage Pro Tower Harness and the Edelrid Core Rope Access Harness.
Ferno Advantage Pro Tower Harness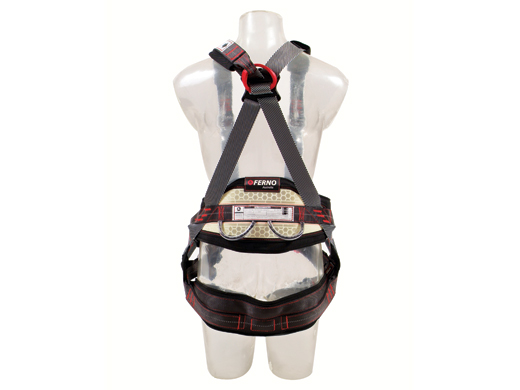 The Advantage Pro is a revolutionary new and lightweight design that combines the traditional 'H' and 'V' shape that makes Ferno's Advantage Pro a comfortable and easy to don harness with a central, multi-purpose attachment point.
The Advantage Pro's new design makes it suitable for a multitude of working applications including:
Tower work
Pole work
Rescue
Abseiling
Industrial height safety
Design Advantages:
The Advantage Pro is half a kilogram lighter than regular tower harnesses thanks to clever use of new materials including 3D breathable mesh, all alloy componentry, splash, water proof and reflective webbing.
Reflective thread and webbing is interlaced throughout the harness plus a wide photo luminescent (glow in the dark) waist panel for better visibility and safety when working in darkness.
Breathable, mesh fabric in wide waist and leg pads provides outstanding support and comfort, keeping the user cooler and dryer.
Easy to reach attachment points for tools and equipment
Harness Features:
Lightweight design, all alloy componentry
Adjustable arc proof neoprene protective covers
Central multi-purpose front free fall arrest/ rescue/ abseil attachment point
Pole strap attachment points
Velcro stowage system for Pole Strap attachment points when they are not in use
Quick connect alloy buckles
Rear dorsal 'D' attachment point
Rear dorsal fall arrest extension attachment point
Wide 3D mesh waist belt with reflective and photo luminescent panel
Rear gear/ equipment material loops
Splash proof and water resistant webbing
Wide one piece, 3D mesh, leg supporting loops for hanging comfort
Australian Standards approved AS/NZS 1891.1:2007
Edelrid Core Harness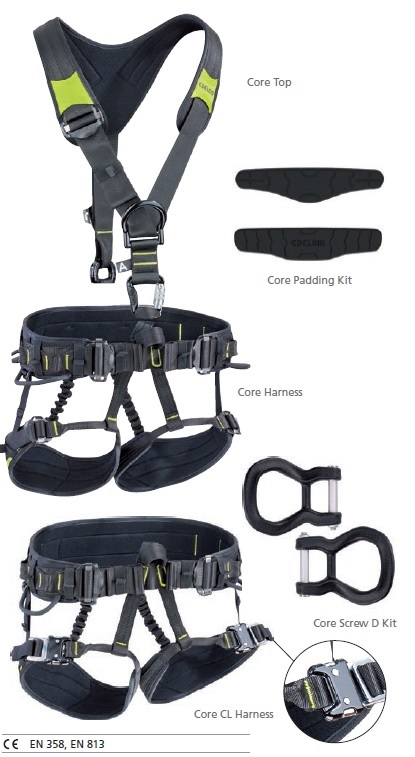 The Core is a lightweight harness for rope access work and rescue operations. Its extensive waist and leg loop padding makes it suitable for a wide range of situations.
Textile eyelets (which can be used with forged screw gate D-rings) at two different positions also ensure an optimum fit for different users. Four gear loops guarantee safe and efficient equipment management and the two front tie-in loops ensure easy tying in and undoing, including when using a chest ascender. The Core combined with a chest harness, becomes a full body harness.