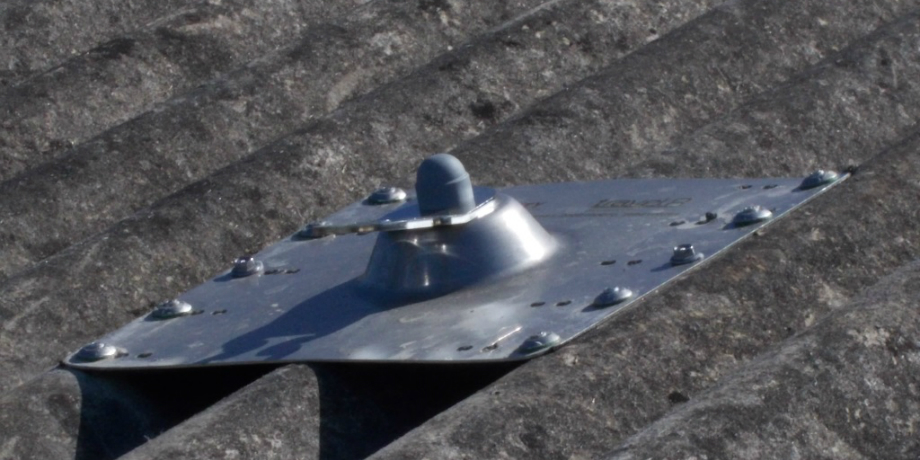 A shocking statistic has been revealed by one of the peak industry bodies Working At Heights Association (WAHA) "……only one in three roof anchors are fit for use."
Of the 3245 anchors audited by association members over the last three months, 2260 were deemed unusable.
This fact was recently highlighted as one of our employees came across a very dangerous installation while driving past a local Brisbane community hall. The ladder bracket initially attracted his attention. Followed closely by the anchors and that the roof was constructed of asbestos. Imagine his horror when it was revealed that the surface mounted anchors were riveted to the asbestos roof. Closer investigation discovered that the installation and layout was not correct and the height safety system would not provide adequate safety while working on the roof.
There are a number of issues associated with the installation of these anchors:
These fall arrest anchors have not been designed or approved by the manufacturer to be attached to an asbestos roof.
To meet the manufacturers requirements the roof anchors must be installed to a roof that meets the current Building Code of Australia.
The anchors where placed approximately 3-4 metres from the edge of the roof and a similar distance from the ladder bracket.
The roof is classified as a fragile surface and placing this fall arrest system in this position would encourage users to walk unprotected across the roof before attaching. This could potentially place them at a risk of falling through the roof.
The installers have drilled through asbestos to install these roof anchors!
The evidence would suggest that the installers have not been trained to install fall arrest systems. We would assume trained personnel would not have installed the anchors in this way. Installers must also have a current BSA licence to install roof safety anchors.
There can be no doubt that these installations would have failed if subjected to a fall. This could have caused serious injury or worse to persons working at heights using this roof safety system. This installation is now a matter of investigation by Workplace Health and Safety. This is an example of the large number and types of dangerous installations being installed as fall protection. Height Dynamics recommends that only suitably experienced, certified and approved companies installing fall arrest systems to protect employees when working at height.
View Part 1 and Part 3 for more Dangerous Installations.
If you are at all concerned about your roof safety system contact us today for a height safety audit and make sure that you are compliant.