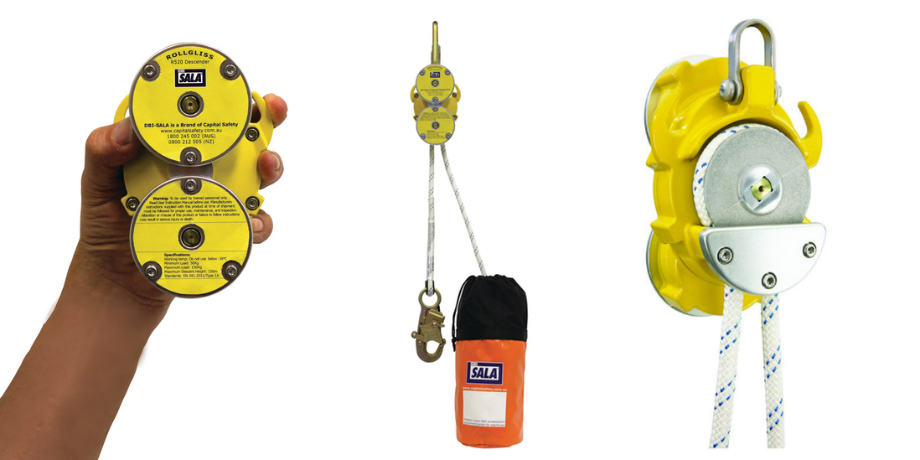 SALA have Introduced the World's First Twin Brake Rescue and Escape Descender.
Ideal for Tower Rescue – Crane Rescue – Rescue at Height
DBI-SALA's Rollgliss® R520 is a state of the art, easy-to-use fully automatic controlled descent device with a dual braking system that sets new standards in
performance, rescue and safety. Unlike friction based descenders, it provides controlled descent self rescue regardless of the user's weight for the evacuation
of multiple personnel, or the versatility of assisted rescue.
The Rollgliss R520 Rescue & Escape device can be used from heights of up to 150m from elevated work platforms (EWP's), towers, cranes, buildings or
other heights. Its compact size allows the unit to be attached to the rescue box of an EWP basket, crane housing or other suitable anchorage.
FEATURES
Compact, light and easy to carry
Pre-rigged for quick and easy installation and use
Twin brakes for added security, safety and peace of mind during descents
Fully automatic controlled descent for ease of use and added safety
Exposed pinion gear shaft ends provides visual evidence of brake viability
Integral moulded rope control ears enable lock-off and descent control during assisted rescue
Operates in each direction through the descender head allowing for the system to be ready for another rescue
Optional deployment storage box also available designed for attachment to bucket trucks, EWP's or crane housings
Durable, corrosion resistant construction for extended service life
i-Safe enabled to track inspections, control inventory and manage information
Use the Rollgliss R520 as part of your tower rescue kit and crane evacuation plan.