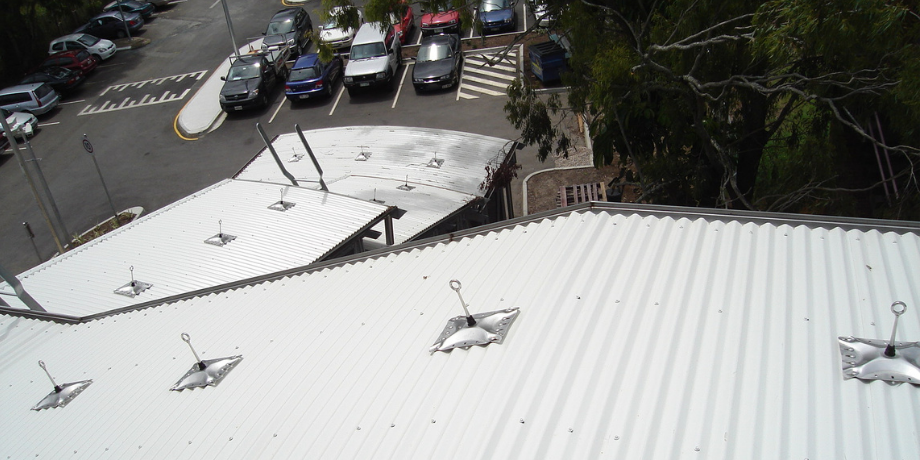 Anchor point systems are used every day in workplaces across Australia. But not all systems are created equal. So what is the best way to fall-proof and future-proof your anchorage when working at height?
---
Two Types of Anchor Point Systems
Proprietary Anchor Point Systems
Some anchor point systems are proprietary. That is, they're built with pre-tested components that are designed to work together. Installed and used correctly, system performance is proven and predictable.
Mix and Match Anchor Point Systems
Mix and match anchor point systems are constructed from a mix of plates, bolts and eyelets. Untested as a unit, such systems rely heavily on the competence of your installer for both safety and compliance.
Constructed, installed and used correctly – both systems can provide safe anchorage. But we recommend starting with a proprietary anchor point systems wherever possible. And here's why.
---
Proprietary Anchor Point Systems
Typically, a proprietary anchor point system is safety-checked and fit for purpose right out of the box:
Engineer Designed. Every component of the anchor point system has been designed by an engineer
Compatible Components. Components within the system have been designed and built to work together
System Tested & Certified. Each component – and the system as a unit – has been tested, rated and certified
Usage Instructions. Where, when, how (and how not) to use the system is clearly spelled out
Compliance Documented. Easy to check compliance with relevant Australian height safety standards
Installation Specifications. System comes with manufacturer's instructions for installation and maintenance
Yes, you must still install your proprietary anchor point system correctly. Yes, you must only use it as instructed and as intended. But assuming this, you can use your new anchorage for years to come with peace of mind.
---
Mix and Match Anchor Point Systems
A mix and match anchor point system can also be used safely – but requires a lot more work to get to that point.
Meeting Regulatory Requirements
Under Work Health & Safety Regulations 2011 / 306 I (1) – each anchorage point of a fall arrest harness system used as a control measure must be:
(a) designed by an engineer for the purpose for which it is intended to be used; or
(b) inspected and approved by a competent person before the anchorage point is first used by any person.
Under the same regulations, you must also prove that the system meets minimum strength rating and energy absorption requirements. Plus you must install the system in accordance with either the manufacturer's instructions – or those of an engineer or competent person.
As such, the compliance of your mix and match anchor point system will rely heavily on your "competent person".
Finding a "Competent Person"
If you have an engineer on staff, that would be ideal. But if not – your competent person must still have the requisite qualifications, training, expertise and experience. Because your anchor point system will be their responsibility. They must ensure it's fully compliant, fit for purpose, safe for use and has been installed correctly.
In our view, that's a big responsibility for clients to shoulder. Even for those with relevant height safety qualifications.
Being competent in various aspects of height safety doesn't necessarily prepare you to sign off on an anchor point system that could be in use for the next decade. Especially when you consider that its sole purpose is to arrest a potentially fatal fall from height.
So – yes, you can deploy a mix and match anchor point system. But you really have to know what you're doing.
---
Bring in the Experts
Engaging a height safety professional to design, inspect, approve and install your new anchor point system is ideal.
Here's what you're looking for:
Only engage a licensed height safety system installer
Ask about their relevant qualifications, skills and experience
Check references from previous anchor point system installations
Confirm they've been trained and approved by any relevant product manufacturers
Request testing documentation showing your system meets all relevant Australian Standards
---
Want to talk about an installation?
Height Dynamics is QBCC (Queensland Building & Construction Commission) licensed. And our Installation Team have more than 20 years of collective experience under their belts.
Our experienced installers can help you select and install a proprietary anchor point system that works for you. One that is fit for purpose and fully compliant. An anchor point system that'll keep your team safe for years to come.