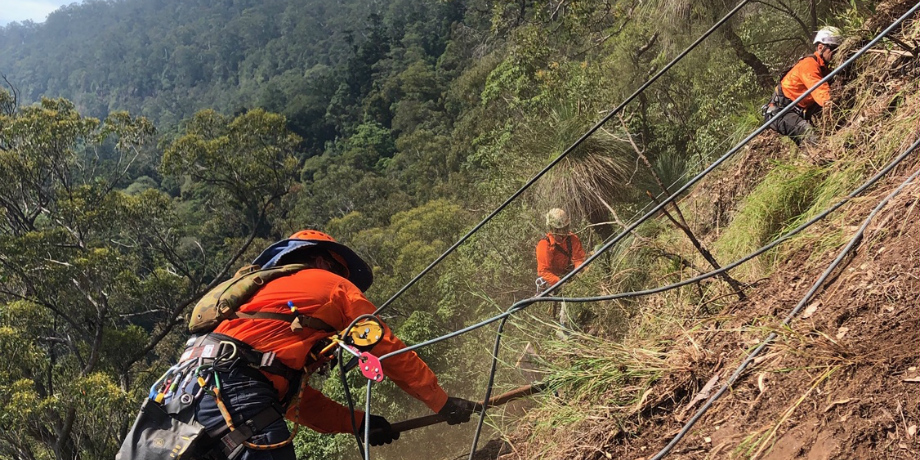 Slope stabilisation at Cunninghams Gap above the Cunningham Highway on the A15 between Brisbane and Warwick has been going on literally since the road was officially opened in 1927. The road has often been closed. In December 2013 a boulder nine metres long and five metres high weighing over 300 tonnes landed on the road closing it for about five days.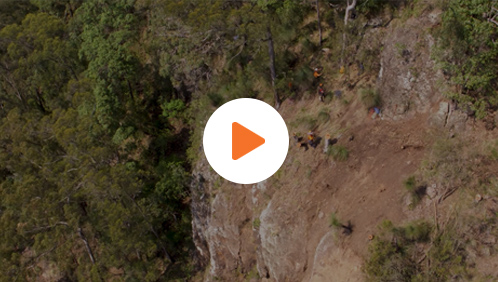 In preparation for the 2018-19 rainy season, a specialist team of geotechnical engineers, ground engineering and slope stabilisation experts, access professionals and civil contractors was engaged to work together to minimise further slips or boulders falling onto the road.
With over twenty years of experience using rope access techniques to access difficult and dangerous terrain, Height Dynamics were critical to the success of this project.
Working from the top down to reduce the risk to the entire team Height Dynamics technicians rigged a safe system for the geotechnical engineers to access the slope, inspect the unstable natural ground and design a suitable stabilisation system.
Height Dynamics operators then established rope access systems to scale the boulders, unstable earth and loose vegetation that had been identified. The resulting clear work landscape allowed the slope stabilisation contractors to mobilise, drill and rock bolt the remaining batter, minimising potential future landslips onto the busy highway below.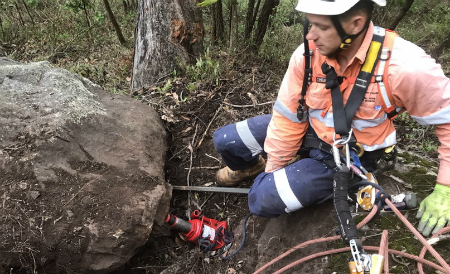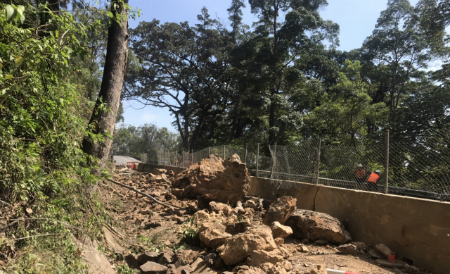 Our client recognized they were working in a remote area at height with no emergency services available onsite or in the near vicinity. Height Dynamics also provided the required high angle rescue capability to safely evacuate a worker to grade level in the unfortunate event of a work-at-height emergency.
Height Dynamics provides comprehensive services in twin rope access for industrial, commercial and civil construction and maintenance projects. With a proven safety record Height Dynamic's highly experienced team of technicians are qualified in twin rope access methods and excel when providing solutions for difficult access projects.