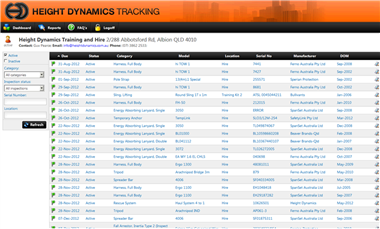 Height Dynamics provides a full range of after sales support to our customers. We offer periodic inspection, repair, assessment and re-certification of all products and systems. This ensures your record keeping complies with the current Australian Standard and Code of Practise. The inspection records are loaded into our inspection tracking system and available for our customers to view through an online portal.
Height Dynamics is able to inspect, clean and service equipment. This process includes:
Visual Inspection of the item
Tagging the item
Entered into our tracking system
Printed and emailed report
Washing and drying if required
Manufacturers Service of Fall/Inertia blocks
Height Dynamics track and maintain all your height safety equipment and systems. All relevant information is entered in our unique web based tracking system to alert our customers when these inspections are due.
Click here for larger Screenshot
Customers can log on to view their records and print reports as required. A comprehensive written report is also provided to assist your company in managing your records. And all of this is provided to you at no extra cost as part of your periodic inspections.
Contact us today for all your ongoing Height Safety Equipment maintenance requirements. Any questions our team will be sure to help.