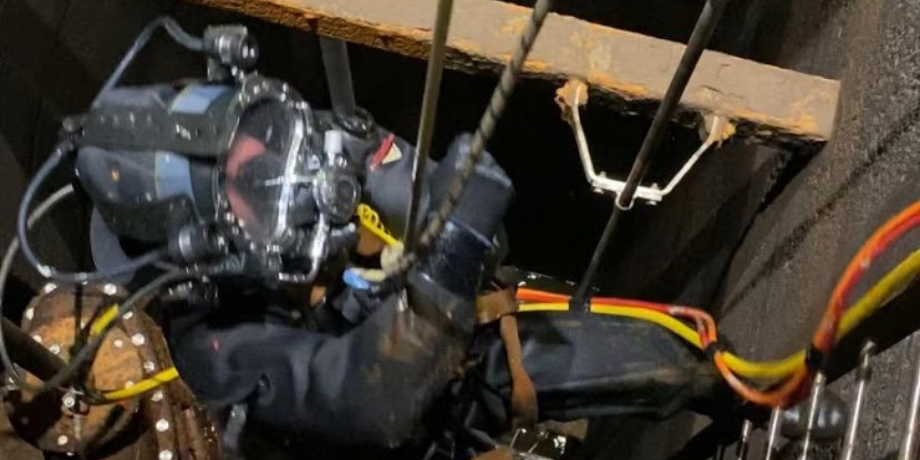 In a vertical workplace, height safety gear can take you anywhere. Even down under! And that's exactly what happened during our recent underwater height safety mission.
Our industrial rope access team were called out to an infrastructure site on the Sunshine Coast. The client had engaged a professional diver. He was to inspect an isolated section of a deep, narrow, submerged pipe network for corrosion. And needed our height safety help to access and exit the site safely.
A solo mission. To reach a deep, dark, vertical confined space. Situated underground and underwater. What could go wrong? Plenty, of course. Which is why we were called in.
We had the confined space experience to de-risk this dangerous mission. We had the specialist equipment to create an underwater height safety system fit for our frogman. And we had the rescue skills required if needed.
---
SCOPE OF WORK
To provide safe access, risk management and standby rescue services.
KEY CHALLENGES
Difficult Access: The inspection site was isolated and a long distance from the entry point.
Confined Space: The path to the site was long and narrow – one-way-in, one-way-out.
Underwater Environment: Inspecting the site required the use of heavy, bulky diving gear.
Solo Operation: The inspection site could only be accessed by one person at a time.
Risk Management: Initiating a rescue or recovery (if required) would be extremely difficult.
---
TECHNICAL SOLUTIONS
Using some specialist kit (below), our rope and rescue team designed a bespoke system:
| Ferno Arachnipod Bridge System | Skylotec Actsafe Powered Ascender |
| --- | --- |
| | |
| This artificial high directional system is ideal for rescue. Its modular and versatile design means it can be configured and adapted to suit a variety of sites and applications. Perfect for our difficult access location and confined space environment. | With 200kg lifting capacity, this portable powered ascender does the heavy lifting. Its adjustable speed makes for a more controlled descent and ascent. Plus it comes with a long lasting, strong battery ideal for big descents. Ideal for our solo, long-distance underwater operation. |
| See At Our Shop | See How It Works |
SPECIALIST SKILLS
Industrial Rope Access:
Our bespoke underwater height safety solution allowed us to:
Provide the diver with a safe means of access and exit
Lower the diver safely down into the pipe network
Raise the diver safely back onto dry land
Maintain physical contact with the diver at all times
Rescue & Recovery:
The addition of a helmet-mounted camera and audio was also crucial. It provided a continuous line of communication between the diver and our rope and rescue team. This enabled us to:
Monitor the safety of the diver at all stages
Identify and mitigate any hazards along the way
Get real time feedback from his site inspection
Initiate an emergency extraction of the diver (if required)
---
VALUE ADDED
Providing the diver with safe and controlled access to the inspection site allowed him to focus on the job at hand. As a result, he was able to perform both a visual and tactile inspection of the pipe and valve.
Site engineers above-ground could also view the inspection in real time. This is where our video/audio feed really made a difference. It enabled immediate, informed conclusions about the condition of the pipe infrastructure.
KEY RESULTS
Inspection completed safely
Condition of pipe and valve assessed
---
Got a dangerous mission of your own?
If you can work the ropes, you can work anywhere. And that's where our team of industrial rope access specialists go.
Down into deep, dark wells and sewers. Up onto super-tall silos and wind turbines. Along slippery slopes and into long, narrow tunnels. Underneath roofs, booms and bridges. They can ascend, descend, hang around and sidle along just about anything.
So if the going gets too tough, don't go it alone. Get on the phone today. Let our super-skilled, super-experienced industrial rope access team help you get the job done.