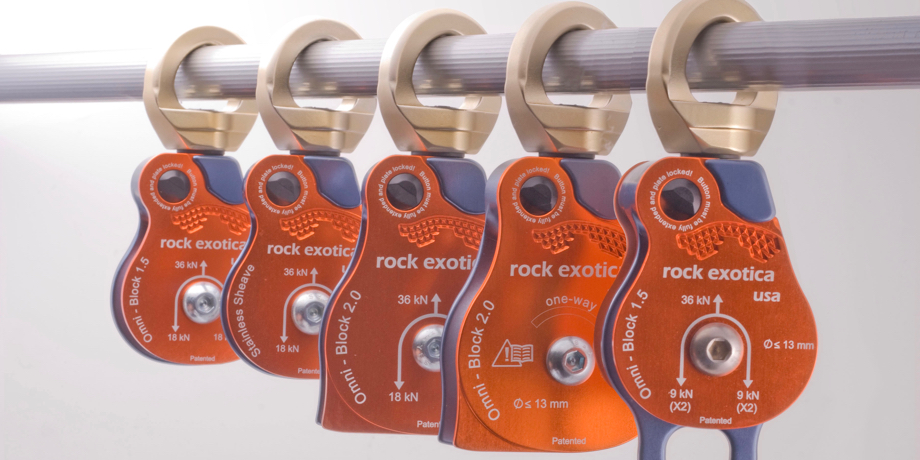 Rock Exotica began in a garage 25 years ago. Much has changed since those days of manual production and graph paper designs. However, one thing has stayed the same…their desire to produce the most innovative technical equipment available.
In an age when many companies no longer actually make anything, but rather just promote their brand and sub out the manufacturing, Rock Exotica are an anachronism. They manufacture their gear themselves, in Utah.
Omni-Block Swivel Pulleys are patented devices that revolutionised pulley use when they were introduced in 2005. The Omni-Block combines a pulley with a swivel and offers tremendous advantages. It replaces the conventional pulley, carabiner and swivel set up and is lighter, less expensive and saves valuable vertical space. While the standard version serves the needs of most users, the Omni is also available with some specialised options. For more information download the product information sheet.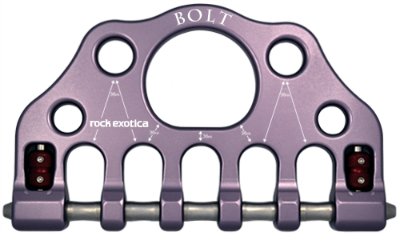 The BOLT Rigging Plate uses a quick detachable stainless steel rod, or bolt allowing you to connect your gear directly to the five connection points without using carabiners. The result is cleaner connections, and when pulleys are involved, more efficient use of space when lined up side by side than when using a traditional rig plate. For more information download the product information sheet.
Height Dynamics offer a range of Rock Exotica products. If you can't see what you need on our online store please contact our helpful sales team.