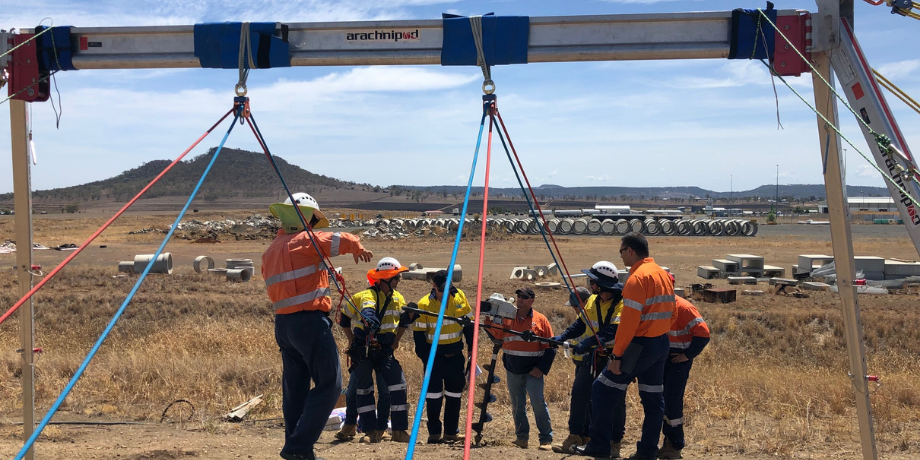 Want to scale-up your skills the easy way? Take advantage of our on-site height safety group training
Staying safe at height is … knowing how to apply your height safety knowledge and skills to the site and the task at hand. And not just you – your workmates too.
That's why we have a very different approach to height safety training. We don't do public anyone-and-everyone courses. And we don't offer all-things-to-all-people training.
Why? Because we're your height safety specialists (not a training organisation). We know what works in the real world – and it's not a tick-the-box training course. Here are the ideal conditions for your learning:
---
1. Train with the experts
Our height safety group training is designed and delivered by our skilled and experienced height safety specialists. Which means, of course, you get so much more than training.
Our trainers are practitioners who work on the ropes and in the field. Scaling up high rises, moving across roofs, descending down into wells. They're technicians with the expertise to work in dangerous, difficult or confined spaces. And product experts who know height safety equipment inside-out because we sell it and use it daily. Plus they're installers and inspectors who can spot a height hazard or faulty installation a mile away.
As a result, what you get is so much more than a training course. You get a hands-on height safety masterclass. Some coaching and mentoring. Our critique of your technique. A little fit-for-purpose product advice. Plus a pair of eyes and ears with the benefit of 20 years of firsthand height safety experience under the belt.
2. Train at your workplace
Yes of course, clients can use our purpose-built height safety group training facility in Brisbane. But you'll get better results and more value by training in your everyday work environment.
Firstly, it's a real world environment – your world. With the actual structures and spaces you work in. With their unique challenges, distinctive features and specific dimensions. All of which can be factored into your training. So it's not about how to get from ground level to a roof – it's about how to get from your ground to your roof. And that direct, immediate application of learning to your workplace makes a world of difference.
To illustrate the difference, a confined space course with a non-specialist trainer would typically involve a make-believe demo. For example, a container with internal walls, a tripod on top and a hole to get in/out. Perhaps it would fill with smoke as you practise. Sure it's better than nothing, but clearly it's not reality. You might learn how to work in a confined space – but not in your confined space. And isn't that the point?
Secondly, there's the big bonus of having a height safety specialist on-site. During training they might spot ways to make your site safer and easier to work on. For example – safer fixings, better positioned anchor points, more suitable equipment. It's all free and part of the safety first focus that Height Dynamics is famous for. And it's something you'll only get with a height safety specialist and with on-site training.
3. Train in work-related groups
Training in work-related groups delivers greater engagement and better learning outcomes. And the long-term result is a better, more cohesive and standardised work-at-height practice.
In our experience, group training is a fast-track to engagement and learning. When participants are familiar with each other they're typically more vocal, willing to ask questions and join in. So they get the most from their training.
It's also a platform for getting people on the same page. Because everyone in the group is trained in the same way, by the same specialist and covers the same ground at same time. So back at work, they speak the same language.
Group training is also the easiest way to establish consistency and reinforce performance. For example, training groups that perform the same role and height safety tasks. They learn the right way together – they can help each other get it right on-the-job.
Last but not least – group training helps establish a better overall work-at-height practice. Groups that share equipment or space, have a better appreciation of what it takes to stay safe – and keep each other safe. And that's really important – because height safety requires teamwork.
4. Train to perform work tasks
There's no point practising what you don't do – or getting to know equipment you'll never use. We prefer to spend your training time more wisely. You'll get all the big picture stuff – but we'll apply to real work.
What tasks do you need to get done? The idea is to train you to perform your primary work-at-height task(s). And possibly the more difficult or dangerous ones you haven't yet attempted. Although on the latter, this is also the time to identify what work should be left to the experts.
What tools do you need for the job? Your trainer will compare the tools you have now (height safety system, equipment, PPE) to what you need. And optimise the process you follow to get the job done.
All of this is possible because our height safety specialists train on-site. They can see the environment you work in, the process you follow and the equipment you have. And because you're in a work group, they can narrow the focus down to what you need to get done -then tailor your training to suit.
You'll never get that in a training centre!
---
In a nutshell – our specialist, on-site, work group and task-related training is the best way to learn. And the fastest way to scale-up your height safety capability. That's why we prefer it and recommend it.
But that doesn't mean it costs the earth. In fact, it's really competitive – even for a small group (say 6-7 people). Beyond that of course, you'll get even more for your money – so the more the merrier.
Plus it's way more efficient. No need for staff to down tools and travel when it's not convenient. We'll come to you. We'll fit in with your schedule. We can even conduct on-site training after hours – so there's no downtime at all!
Needless to say, all of our height safety training is industry-accredited. So yes, you will also walk away with a height safety qualification and certificate. See our website for details on each of our training programmes:
---
But before we go, a word of caution …
All training is just the beginning of building capability. And a few days with a height safety specialist doesn't make you an expert. You still need lots of experience. And that takes time.
So don't give yourself too much rope too soon. Keep getting help and advice. Call in the experts when you need to.