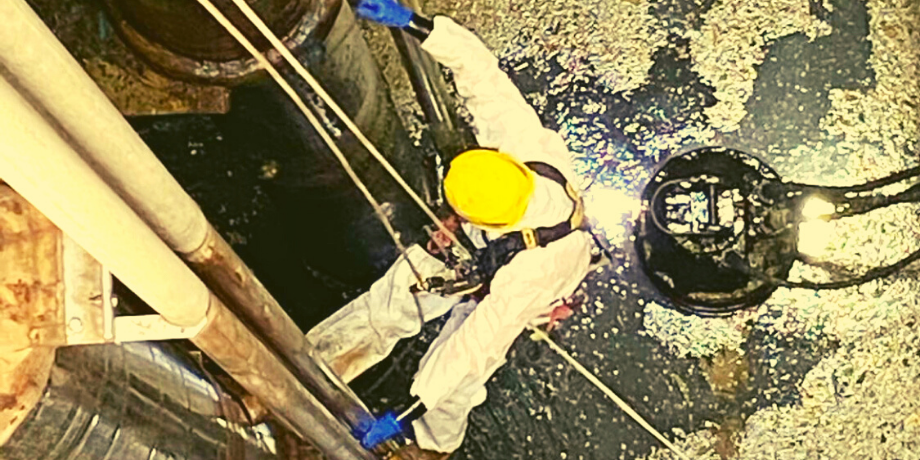 Scaling the inside of a water treatment well is not for the faint-hearted!
It's a difficult, dangerous and dirty environment to work in – let alone to perform technical repairs while hanging by a harness. But that's exactly what our industrial rope access team did when a local Council's water treatment facility came calling.
---
The Call Out
To conduct a clean-and-repair operation on a damaged pipe riser in a difficult-to-access location of a 14 metre deep water treatment well
---
Background
When pressure penetrated the material wall of a pipe riser running the full height of the well, our client's on-site maintenance team tried to implement an immediate repair.
Draining the well and then utilising on-site equipment (an overhead crane and man box), they were able to lower workers down into the well. However they couldn't assess the damage and complete the heavy-duty technical repairs. So they called in the experts.
Step 1. Provide Safe Access
Our immediate priority was to provide safe access in and out of the well.
First, we installed a total edge management system at the top of the well. The platform at the entrance to the well could not support an A-frame or bridge set-up, so we installed an Arachnipod monopole system. This versatile, modular Arachnipod system allowed our team to reconfigure components and construct a system to suit the site's access constraints.
Then we added a Harken Rigger 500 Industrial Winch to the system. Rigged to the monopole set-up, a winch can be used for confined space operations, for load moving/hauling and for personnel hoisting. This makes it perfect for rope access operations.
Step 2. Assess the Damage
Next our specialist industrial rope access operators planned their first foray into the well to conduct a damage assessment.
With the repair site identified, well drained, atmospheric testing conducted and work permit completed – our operators abseiled into the well to the repair location.
After reaching the repair location and cleaning the work area, our operators took a closer look in order to provide an assessment of the damage. Once returned to the well entrance, they reported back on repair requirements.

Step 3. Complete the Repair
Along with experience of industrial environments and confined spaces, all of our rope access operators are also trade-skilled. This ensures that across the team we have both the height safety and trade skills to implement on-site repairs as required.
In this case, the repair required installation of a 100kg stainless steel bandage wrapped around the circumference of the damaged pipe – providing a high-quality, non-corrosive, pressure-proof permanent solution.
Result
With the help of our industrial rope access team, the Council were finally able to progress this important repair. Work was completed safely, quickly and with minimal cost and disruption to the wider water treatment facility.
By completing the repair, they eliminated the ongoing risk of further pipe riser damage and the potential cost of having to conduct an expensive emergency repair should the situation suddenly escalate.
Having worked with our team, our client has seen first-hand the value that height safety specialists and rope access solutions can bring to the table. Next time, they'll know to give us a call when they're in a tight spot.
---
Industrial Rope Access Team
Our industrial rope access operators and confined space specialists have more than 20 years of hands-on height safety experience
We have the collective expertise to work through your site-specific issues and come up with practical, effective and efficient solutions
We have the hardcore equipment, specialist gear and height safety skills to get to work quickly and safely.