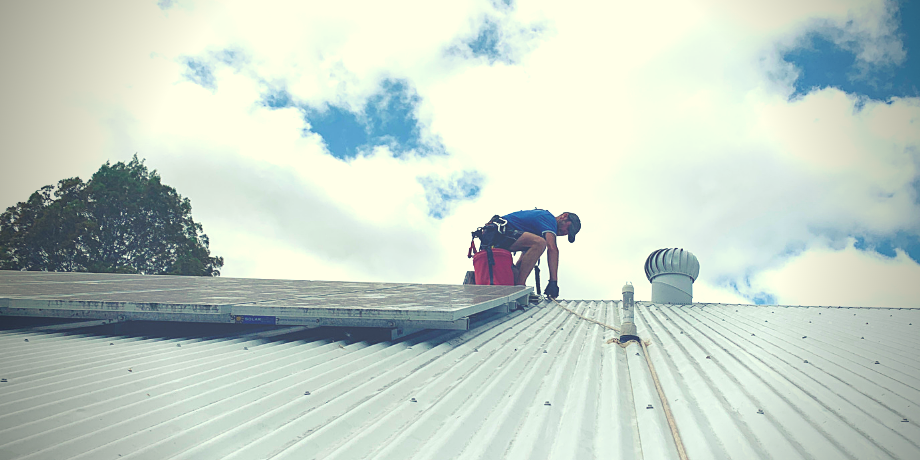 Our height safety supervisors and standby rescue crew are always busy during the summer storm season – and 2020 is no different.
After 20 years in the field, we know that storms can play havoc with even the smallest piece of plant on an Australian roof. So we weren't surprised to get an SOS call recently from contractors on an insurance repair job at a school in Brisbane West.
Wild weather had blown through and damaged a number of rooftop ventilation vents across multiple school buildings. These small semi-mechanical vents – commonly referred to as "whirly birds" – are a cost-effective, environmentally friendly way to remove heat from ceiling cavities. And with a hot summer ahead, the School was keen to get their whirly birds whirling again!
To do that, our contractors needed to access and work on the rooftops. But there were no permanent roof access systems installed – not even anchors. And they didn't have the equipment, tools or skills to install a temporary solution.
To de-risk the job – and get it done safely and quickly – they called Height Dynamics.
---
Height Safety Supervisors & Standby Rescue Crew
Take On Another Storm Season Callout
1. Site-specific solution
Once at the School, our first job was to assess the site. There were a number of damaged whirly birds across multiple buildings. Our solution needed to be portable and flexible, so that the contractors could work their way around the buildings and reach each vent.
2. Height safety system
Next we configured a height safety system to enable access to the various roof locations. This included:
Temporary Roof Anchors: We installed temporary roof anchors to provide a connection point for contractors on the roof
Adjustable Rope Lanyard & Harness: When moving around the roof, contractors would remain connected to the anchor using an adjustable rope lanyard attached to a safety harness
Adjustable Fall Arrest Device: We used an adjustable fall arrest device on the rope so that the contractors could use the "restraint technique" to minimise the risk of a fall
Descent Device: For extra safety, our system was coupled with a descent device. This provided a means to easily lower contractors to the ground in the unlikely event of a fall – limiting risk to the rescuer and simplifying the rescue procedure
3. Height safety supervisors
After gearing up the contractors and demonstrating how to use the height safety system, we remained on-site to provide height safety supervision.
Over the duration of the job, minor roof repairs were completed and a number of whirly birds were replaced. As the contractors went about this work, we were on hand to support and monitor.
4. Standby rescue crew
For extra peace of mind, we also acted as a standby rescue crew. We were on-site to assist if the contractors got into trouble or in the event of a fall.
The devices incorporated into our height safety system meant we were able to act immediately. For example – by using the descent device at our anchor point, we could lower a fallen worker to the ground quickly and safely.
---
Height Safety Supervisors & Standby Rescue Crew

Available On-Demand, 7 days a week
Working on the roof of a school or the side of a silo or the top deck of a tower block is all in a day's work for our experienced height safety experts.
So if you need help to get dangerous work done, give us a call. We have the gear and temporary height safety systems to get you up, down and around your site safely.
We can also stay on-site to support and supervise as long as you need us. Or for even more peace of mind, book us in as your standby rescue crew.
So don't go it alone. Let Height Dynamics help you get the job done. We have height safety specialists available on-demand seven days a week. All you have to do is call – or book a call back.