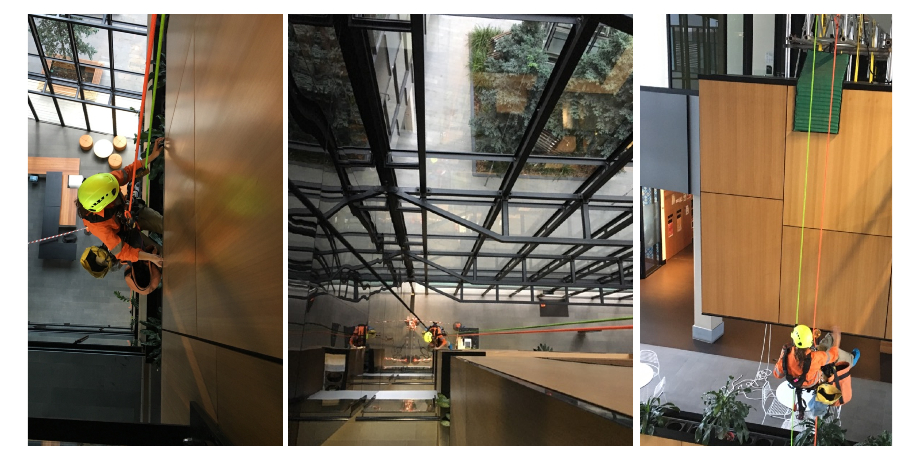 Custom rope access system allows a fast, non-disruptive fix to internal building feature panelling sited above public traffic areas
Recently, the operators of the University of Queensland EcoSciences research facility in Dutton Park asked Height Dynamics to repair failing internal feature panelling.
The key challenge was that a glass balustrade and high internal garden beds below the work area created a complicated access arrangement. And the customer wanted work to proceed with minimal disruption to operations.
Rope access work for speed, safety and cost control
To satisfy these needs, Height Dynamics personnel suggested a customised mobile rope access approach using a positioning needle system.
A mobile access needle system, would allow the facility to operate without interruption while works proceeded safely. And, by eliminating any bulky scaffolding, works could be done faster and less expensively.
Instead, the team was able to begin work quickly and with minimal setup. Execution proceeded safely and efficiently with little customer inconvenience and delivered superior value for money — particularly compared to a scaffolding option.
Minimal facility operational impact
The Height Dynamics team was able to build the access system and undertake the work during off-peak work times.
They then re-affixed the decorative metal strips to the internal facade panels so facility staff would not be at risk from falling objects when moving through complex common areas. Impact on operations on the top floor of the EcoSciences facility was minimal.
Height Dynamics are rope access specialists and have a range of access solutions for difficult or sensitive areas. Contact Height Dynamics for information on all our rope access services.