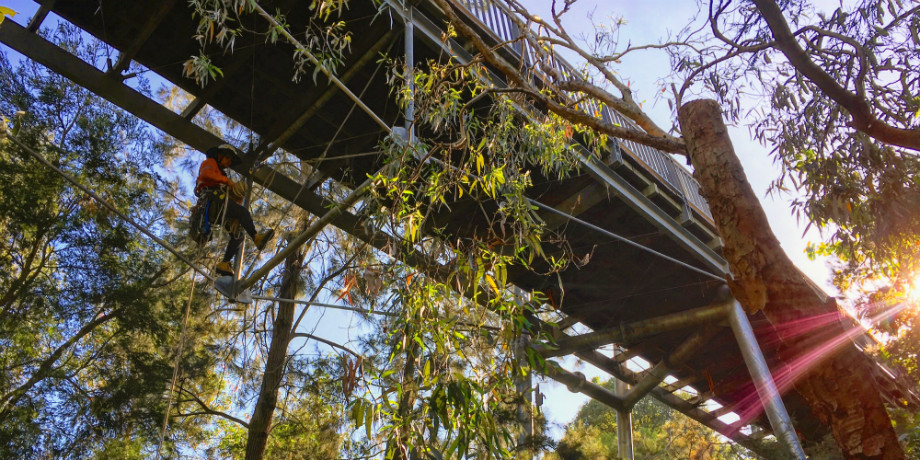 One of Brisbane's iconic green precincts in a central city location provides locals and visitors a place to relax and enjoy the tranquility of a natural environment. The Roma Street Parklands boast expansive manicured lawns, waterfalls, themed gardens and bridged waterways.
With the focus to maintain the parkland serenity, facility staff had the challenge to undertake extensive maintenance on one of its key pedestrian bridges. Height Dynamics was asked to provide a low environmental impact solution to undertake bolt replacement on the structural components of the bridge.
Rope Access is a versatile, efficient technique that can be utilised undertaking tasks in difficult locations without the need for heavy intrusive infrastructure.
Height Dynamics were able to provide a best fit solution for the client. By using rope access techniques, moving around and under the bridge replacing the structural fixings, had little impact to the day to day operation of the parkland. By providing this solution parkland management were able to ensure the safety of visitors and the integrity of the bridge years to come.
Height Dynamics rope access technicians hard at work. Approximately 1500 bolts have been replaced during this upgrade.
Rope Access is a versatile, efficient technique that can be utilised to undertake tasks in difficult locations. Ideal where the visual impact of unsightly traditional scaffolding is not desired.
Our customers rely on Height Dynamics skilled and experienced rope access technicians to access difficult or hard to reach work areas. If you have you have a difficult access problem, Rope Access is the Solution.