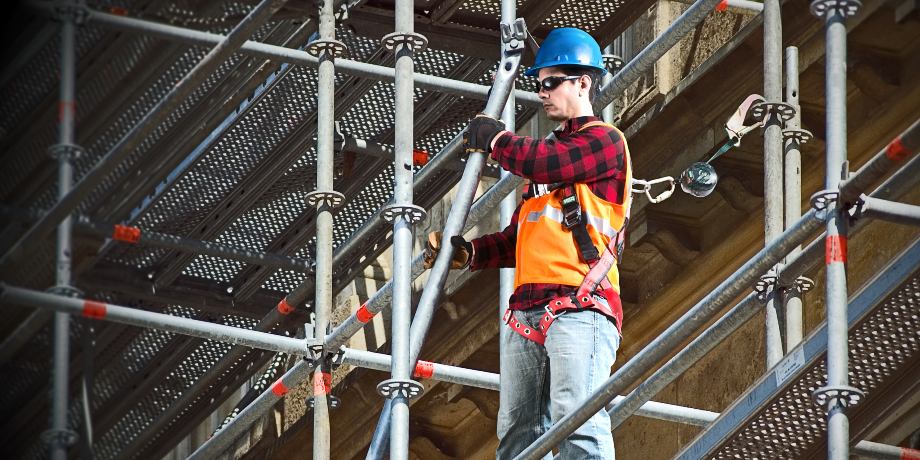 What is the Best Harness and Lanyard for Scaffolding?
Every scaffolder knows the importance of having the right safety set-up for the job. And with falls from height accounting for 30% of construction industry fatalities in Australia, that set-up must include having the right safety harness and lanyard combination.
But what is the right combination? How do you know which harness to use – an all-purpose harness, a fall arrest harness, a tower harness or a rope access and rescue harness? Should you use a single fall arrest lanyard or a twin-tail lanyard? And which features make a difference?
With so much jargon and so many options it can be difficult to decide – so let's narrow down your choices and keep it simple. If you're a scaffolder working at height, you need a fall arrest harness and a twin-tail lanyard.
Step 1: Choose your Fall Arrest Harness
When working as a scaffolder at height, a fall arrest harness is critical.
This typically lightweight, full body harness will give you the mobility needed to go about your work and the peace of mind that comes with knowing it has been designed to catch (or suspend) you if you should fall.
When it comes to choosing the fall arrest harness that's right for you, here are some options:
Fall Arrest Harness (standard)
A standard fall arrest harness comes in an H-configuration (or cross-over style) with fully adjustable chest, torso and leg straps and two fall arrest anchor points – one located on your chest (the sternal attachment point) and the other between your shoulder blades (the dorsal attachment point).
Both fall arrest anchor points are typically secured with either steel or alloy D-connections, giving your harness enough strength to withstand the anticipated load of a person in free fall.
Fall Arrest Harness with Additional Padding
A fall arrest harness is not designed to suspend you other than after a fall. For that reason they typically don't come with additional padding. However some brands do offer padding to help support the weight of extra equipment hanging off the harness (such as lanyards) and to give you better all-day comfort – an optional extra worth considering.
Fall Arrest Harness with Integrated Tool Belt
Some fall arrest harnesses come already equipped with an integrated tool belt designed to accommodate the tool lanyards, pouches and holsters you need to do your job.
Although this feature is not a necessity (you can still wear your scaffolders tool belt over the top of your harness), it is ideal for scaffolders working at height on a regular basis.
Fall Arrest Harness with Waist Belt and Side Connectors
A fully-featured fall arrest harness (also called a rigger harness) comes with a waist belt and D-connections on the side of the harness. These additional features enable the use of a pole strap for work positioning and can be useful for scaffolders when required to complete tasks hands-free.
Step 2: Add a Twin-Tail Lanyard
When scaffolding at height, a twin-tail lanyard is the best complement to your full body fall arrest harness.
Twin-tail lanyards are common in the construction industry. They allow for freedom of both vertical and horizontal movement whilst ensuring that you and your harness remain attached to at least one point of contact at all times.
Some tips for choosing your twin-tail lanyard:
Big is best
For scaffolders, lanyards must be able to hook over any scaffolding platform. Twin-tail lanyards for scaffolders would therefore typically be large, with a 60mm opening and scaffold hooks on the end.
Keep it retractable
A self-retractable twin-tail lanyard is ideal for scaffolders because it reduces the free fall clearance required.
Retractable lanyards range in length from 1.8m to 3.0m – selecting the correct length will depend on the distance between where you are working and your anchor points.
Need help?
When you're working at height, choosing the right safety set-up for your specific project or situation is really important. Even seasoned professionals consult the experts for advice.
So if you want to check your harness and lanyard combination with a height safety specialist, reach out to the team at Height Dynamics. Your safety is always the first thing we think of.