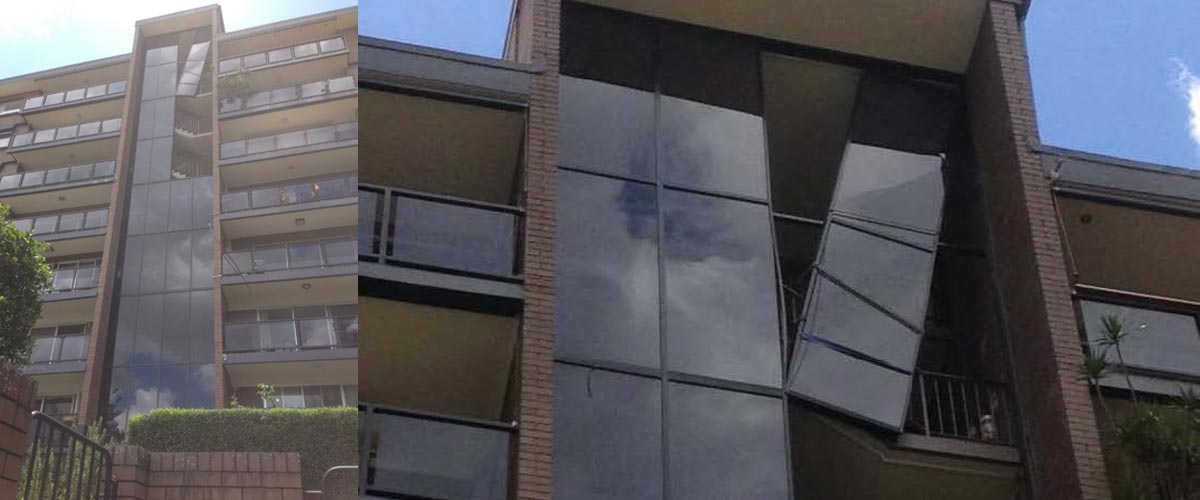 Emergency Glazing
WHAT VALUE WAS ADDED FOR THE CUSTOMER
Safe and fast replacement of building glass panels that
could not be accessed by crane, due to loading on the
suspended ground on the underground car park, or by
scaffolding, as it had to be built safely from ground up,
exposing the scaffold team to large loose panels.
Safe removal of two large panels dislodged by storm
damage and left hanging precariously above the
entrance. These had to be removed before any clean
up or access through building entrance could occur.
The ability to lower damaged panels from above or to
the side of the panel, limiting the exposure of risk to
the technician during the delicate operation of making
the panels safe.
Further risk minimisation to glaziers and general public
by applying a special sticky clear film on panels to
reduce risk of shatter during lift and lower.
CUSTOMER NAME

Unknown Glazing Company

LOCATION

New Farm Apartments

SCOPE OF WORKS

Removal of loose glass
panels dislodged by extreme
high-wind weather event.

OUTCOMES

Height Dynamics Industrial
Rope Access team accessed
the panels from above,
carefully securing each
panel and using a special
sticky clear film to reduce
the risk of panel glass
shatter during lift and lower.